support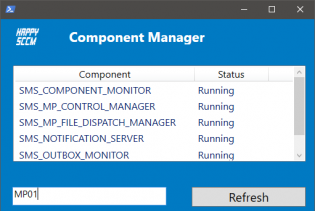 SCCM Component manager is a quick way to start/stop/pause SCCM components that you would normally control using the Service Manager.
The reason the Service manager is so slow is because it has to connect to every site system's registry and gather information. SCCM Component manager only connects to the server that you select so it is much quicker. It does however require WinRM to be enabled as it uses it to run powershell commands on remote servers.
You can run the tool on it's own or you can enable some right click tools action.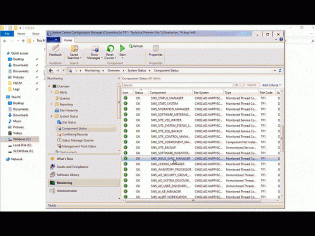 To do this extract to C:\ then copy the two guid folders to C:\Program Files (x86)\Microsoft Configuration Manager\AdminConsole\XmlStorage\Extensions\Actions
I made the tool mainly to learn about powershell GUI creation,  if @nowmicro would like to add it to right click tools, feel free to re-brand, polish and do as you would like
If you want to learn about powershell gui creation please visit  Foxdeploy.com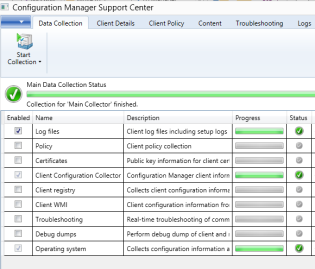 Have you ever needed someone to collect logs off a machine and came to find that the vital log you wanted wasn't collected? Lost in the sea of logs?
Microsoft feels your pain!
Microsoft has released an excellent support tool to assist in troubleshooting ConfigMgr. It can collect logs, policys, wmi, registry etc; from remote or local machines. Also includes a log viewer that groups logs by function. I think it will eventually replace CMTrace.
It's in BETA so read the release notes!  Update: It's released!
http://www.microsoft.com/en-us/download/details.aspx?id=42645